ABOUT
Spring 2017 - Biodesign, Visual Design, and Product Design
INSPOREATION is an opportunity for young girls to learn about Bioscience and sustainability by making. Through the playful and creative nature of hands-on making this unique product allows girls to engage in science by reconnecting them with the things they wear. The INSPOREATION kit provides the necessary tools for girls to create and nurture their own bio-accessory.
The accessory form is created using compostable algae plastic that is produced through a sustainable process. Following the accessories lifecycle, the form can either be reused or returned to the ground to biodegrade.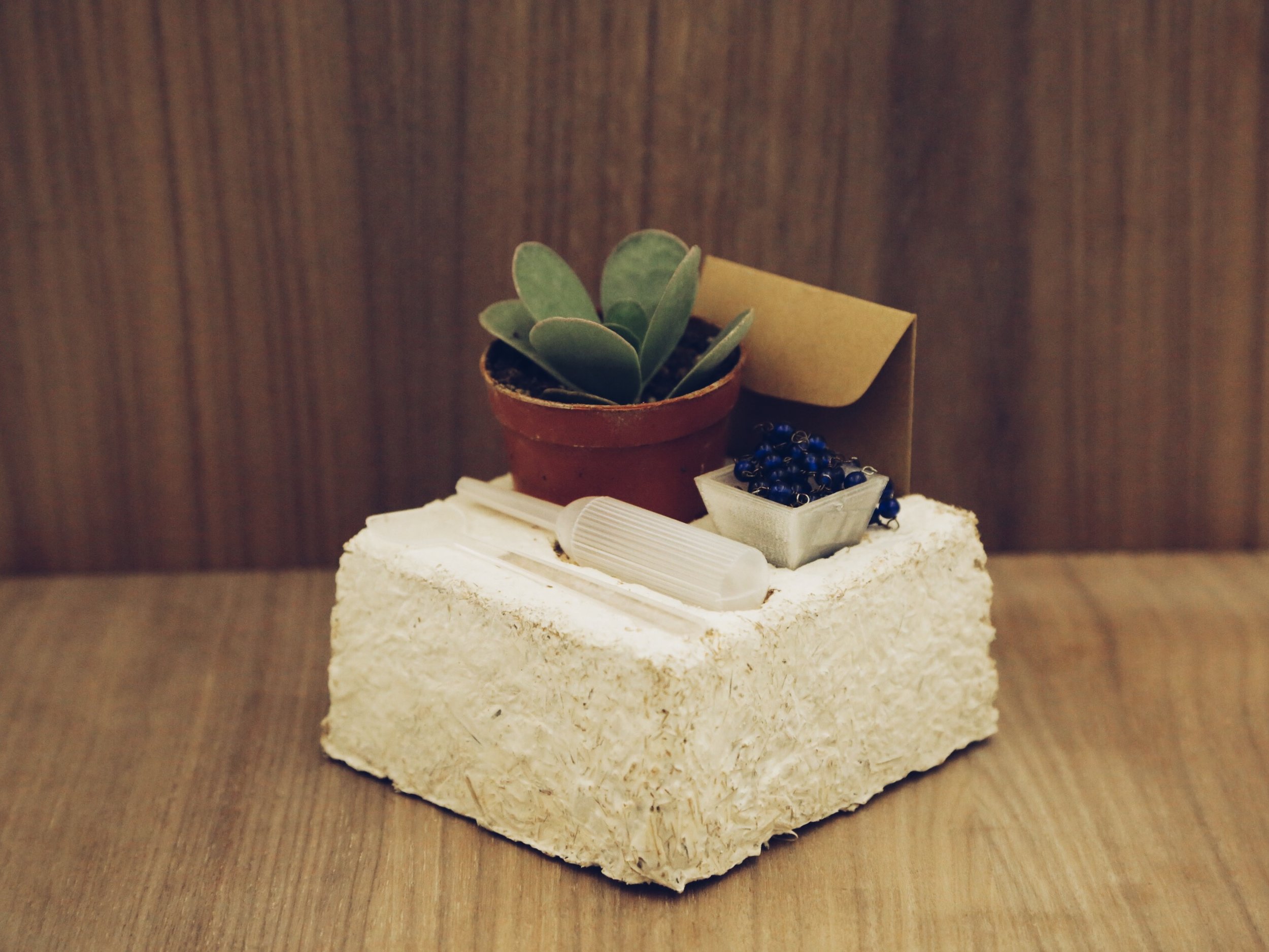 The INSPOREATION kit takes advantage of sustainable materials such as mycelium and post-consumer paper.
RESEARCH
Historically science, technology, engineering, and math (STEM) have been dominated by men, continually substantiating the issue that across many cultures these fields are associated with males. Following this ideology, males significantly outnumber females within the current STEM educational system and workforce. Without women in the most influential, prolific, and fast-growing fields we are innovating in environments that are dominated by perspectives and experiences that reflect only one half of the world's population. The problem is, how do we encourage women to remain engaged in STEM? It starts at a young age by making science accessible to young girls, and promoting creative exploration and tactile experimentation that make learning more personal.
Todays fast fashion has taken a toll on the environment. INSPOREATION empowers young girls to understand a products lifecycle and impact, helping them think critically about contemporary environmental problems. These bio-accessories make sustainability fashionable and allow the wearer to make a statement that they care about the environment.
CREATING INSPOREATION
MFA DESIGN & TECHNOLOGY THESIS SHOW
Coming Soon...